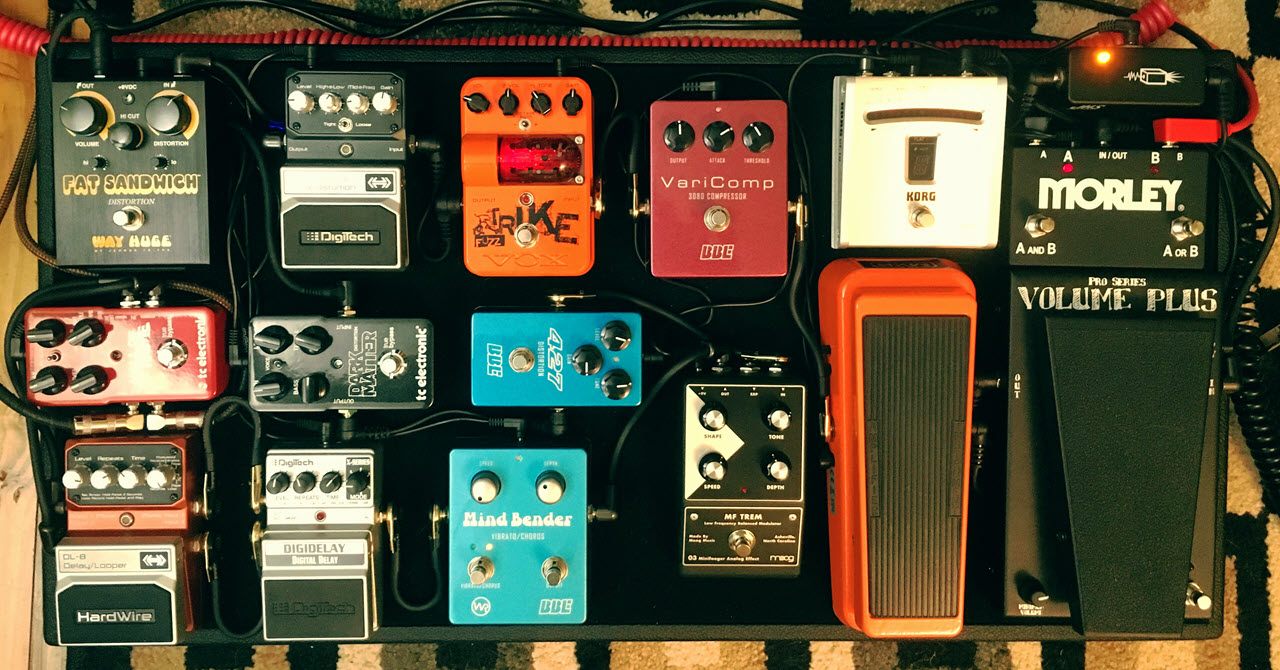 The Gift of Guitar Pedals
What's This Article For?
[NOTE: I will probably build this article over time. Should you have questions or want to chat about guitar pedals, feel free to contact me on Twitter, @stringbox.]
From time to time I come across the question of a young lass wanting to buy a guitar pedal for her boyfriend. Ok, so like twice I guess, and both times it was a looper pedal. Twice is enough to inspire me to write something of a guitar pedal buying guide though! Maybe I inspire easily. Maybe I'm good at seeing opportunities. Whatevs, let's help you get your boyfriend, or girlfriend, or 2nd cousin once removed, or whoever that significant guitar player is in your life, a good guitar pedal.
We'll cover where to buy, what to buy, some suggestions by type of guitar pedal if a particular guitar pedal is not in mind, and probably some other general ramblings. And as always, when you give a particular gift of any type, any thought you put in just makes it that much more special, and that can be as simple as "this is what they suggested at the store, and it sounded neat to me" or "I went with this one because…." if you do a little research. And if they told you exactly what they wanted, just "Woo yea, check it out, Happy Birthday, Merry Christmas!"
Where To Buy
I'd suggest local music shops, then certain online stores. Either's good. Always try to support a good, local music store when feasible, particularly if they're good. Srsly. No, really, if they have a good reputation, keep them in mind, they can talk with you and help you with your questions. Though you may run into the problem of a local shop not really having a large pedal selection. It varies, some homegrown stores are pretty big, just depends on where you live and the music scene. It may turn out that Guitar Center is your next best bet if guitar pedals are not plentiful at the hometown shops. And that's ok too. If you look to buy in a store, just try to talk to a guitar player type salesperson and they can be pretty helpful.
If buying online is better for you, I would go with Musician's Friend or Sweetwater. I've bought from both and get prices and packages arrive quickly. Also, if you have questions, they should be helpful. Other online stores include: Sam Ash, American Musical Supply, and zZounds. All should be pretty well organized and likely have a particular pedal you're looking for, unless it's rare or boutique, then try Reverb, Chicago Music Exchange, and/or perhaps Cheaper Pedals for, you guessed it, some cheaper pedals, but they also have a few boutique. DO NOT start with Amazon, at least until you've settled on a pedal (hey that nearly rhymes) and you just want to try to find the best price. Amazon is great for many things, but for researching or browsing guitar pedals, start with the stores I've mentioned and then when you know exactly what you want, feel free to check the price on Amazon.
You may have a pedal in mind already that you can just do a search for on any of those sites, or if you just want to browse, the category may be listed under guitar, effects, amplifiers and effects, or something of that nature. Pedals go on sale too, so if you've got plenty of time to make this decision and particularly if you're just looking to buy a certain type of pedal, check the specials on the sites occasionally. I've gotten several pedals via Musician's Friend: Stupid Deal of the Day.
Which Guitar Pedal To Buy
Does your significant guitar player seek to own a particular guitar pedal?
This is a good situation for you, naturally. In this case they may have given you a link to it on a website, or so forth, which you can just buy from or print off to take into a store. If you need to search for it yourself, like they say they want a "mini tube screamer", find it online, show them a picture to be sure you've got the right thing and then say, "ok, maaaybe you'll get one, I don't know…" or however you want to tease them. Whatevs.
Do they just want a certain kind of effect like a delay, or looper, or distortion, or unique effect, but not a specific brand/model?
Ok, this is a fine situation too. You just want to be sure they don't already have whatever pedal you decide on, of course. Easily done, just take a picture of what they do have, you can even say "Are these all the pedals you have? You probably need another one don't you?". If I've not done so yet, I will update a section further down soon: Suggestions by Category.
Are they a gear-head who enjoys collecting a variety of pedals for the enjoyment of guitar pedals in general?
They are a cool person and you will enjoy spending time with them as they show you what each pedal does. And in this case, either pick their brain if you're good at that, or just ask them what sort of pedal they'd like to add to the collection.
Are they particular about their sound and only want a minimal setup and you aren't sure what they may want, you just know they have some guitar pedals?
So their appreciation for gear is not fully developed. Why do they even have pedals at all? I'm kidding, minimal setups are fine. *eyeroll*. No, really it's ok…. I guess. Ok, ok, legitimately, they may play a lot of small gigs and not like hauling around any more gear than necessary, and may have their tone/sound just the way they want. In which case, ask them before adding to their setup, they may need some other guitar related accessory more.
Is this their first pedal or 20th?
If they have a lot of pedals already, see the first 3 questions. If this is their first or one of the first of their collection, then they may have a particular pedal in mind (see 1st question) or at least know what type of effect they want to try adding next (2nd question).
Do they have several guitar pedals, love playing on them, are generally grateful, and you want to completely surprise them?
This could be fun, especially if you like music gear yourself. If it means nothing to you, we're gonna let that go for now and just refer you back to the first 3 questions. Otherwise, if you'll enjoy the search for a new pedal for them, sneak a picture of what they do have on their pedalboard (that plank of a thing on which their pedals sit) or scattered about on the floor by their amp. Once you have a picture of what they already have to reference, you can take that into a store and say "What would you add to this?" or if you're browsing by the different categories online, you simply use it to avoid duplication. This is another opportunity to cleverly pick their brain for what they might like to add to their setup if you enjoy such psychological manipulations. If that's too tricky, and you're really hoping for the surprise, you're gonna have to research, or tweet me if I may be of assistance, or comment below, or ask whoever you can find that would be most useful. Certainly one of their musical friends might could help, or other guitarists you can reach.
Ideas and Suggestions by Category
Distortion/Overdrive/Fuzz
Delay/Reverb
Chorus/Phaser
Compression
Wah/Filter
(Images: Musician's Friend)